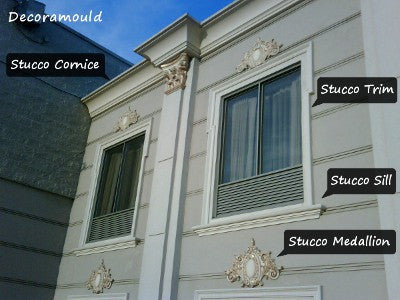 Custom Trim
Transform your walls into a beautifully decorated home. Exterior renovations have been shown to have one of the highest ROIs of any home renovation.
Exterior Stucco Trims and mouldings
Less maintenance than wood - stucco trims will not rot, warp or become infested
The appearance upscale exterior concrete mouldings, without the cost
Can be painted in any color
Improves resale value by bolstering the first impression of the home Stucco sills help to divert water away from windows to prevent moisture and mould issues
Decoramould exterior stucco trim is made from composite inorganic materials that will not rot, warp or infest like traditional wood trim, ensuring it lasts decades longer, with lower maintenance and replacement costs than exterior wood trim.
BUILDERS
Tired of getting warranty callbacks from home owners because the supposed "high quality" wood trim you put on the exterior of the home is now rotting? Organic materials just don't belong on the outside walls of a building. We manufacture high durability stucco window trim and exterior door mouldings that look just like upscale concrete, but at a fraction of the weight and cost.
We do not recommend using Decoramould stucco products close to the ground, to avoid damage from feet and maintenance equipment.
Our window and wall accents will not rot, warp or infest like wood because they contain no organic material on which the associated bacteria, moisture and insects can draw nutrients from. This means that you are safe in knowing that there are no "hidden problems" that can lead to further damage on your home. You also save time performing repairs or replacing the wood trim that will one day fail.
Design & Trim Ideas
Want the look of pre-cast concrete, without the associated cost and weight? Check out our Exterior Window Trim ideas. We have compiled our most popular shapes into an online catalogue, but if you don't see something that you like, we can make custom shapes based on your drawings.
Builder and Contractor Discounts
Are you a builder, contractor, architect or designer looking for exterior window trims for your next custom home? We offer contractor discounts on orders over $2000 throughout the United States and Canada. With a short 2-week lead time for manufacturing and production, it's never too late to offer a high-end alternative to wood trimming to your clients.
Warranty
All of this is part of the Decoramould Quality Assurance Program. We know from experience that not only do our products look stunning on any home - but that they will stand up to the test of time.
Why Decoramould Stucco Trims and Mouldings
As a manufacturer, we have taken the time to stringently test our products over the course of the dozen (12) years these products have been in production. We have come to realize that everything affects the quality of a product - from the drying time required for the coating, to the type of styrofoam and fiberglass mesh coating. A better quality, mora durable exterior trim product translates into savings in your pocket on maintenance and repair costs. The exterior environment is a harsh one, and it will decay even the toughest materials - investing in durability is the smart choice.
Contact us find an architectural moulding installer in the Greater Toronto Area.
Stucco trims and mouldings from Decoramould are right for you if:
You would like to enhance the first impression of your home to potential buyers
You would like to increase the resale value of your home
You would like to modernize the look of your home
You seek the look of high end concrete trim, without the cost
You would like to prevent water damage around windows
You don't want to repair or replace rotting, warped or infested wood trim year after year